One of my favorite quotes is "If it ain't free, it ain't me." Which is why I love receiving free products from Influenster and great brands.
My skin has always been a hassle. From puberty to motherhood, I have only had rare moments of a "good skin day." I'm 26 and acne still exists in my everyday life. The complimentary products I received included a three-step facial regimen that was fit for my combination/oily skin.
From day 1, I was already seeing and feeling results.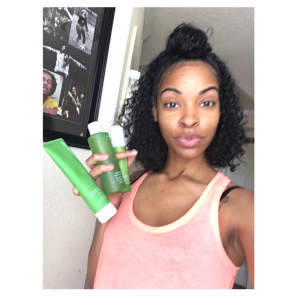 This three step program includes:
Find Your Balance™ Oil Control Cleanser
Balancing Force™ Oil Control Toner
Ole HenriksenCounter Balance™ Oil Control Hydrator By Ole Henriksen
 This particular system focuses on oil control. I can honestly say that I have not had any excess grease on my face or an oil feeling since using these products. However, my #GLOW  is very real and I haven't had to use any concealer or foundation in my morning routine. That's how fast these products worked on helping clear up my skin.
You can guarantee that I will be buying these products once my free #Influenster VoxBox products are finished. You can find these products at Sephora or Ole Henriksen's website.
If you're a fellow #Influenster , comment and let me know how you feel about this #VoxBox and the products! If you have already tried these products, I would also love to hear your story and see before and after pictures.